Hotel Information
The organizing committee of ICHEP2018 is now arranging hotel rooms in different rate categories for participants. Kindly refer to the hotel list below.

Important Check!

The organizing committee of ICHEP2018 Seoul has made block reservations at hotels of different rate categories.
Promotional rates only apply to ICHEP2018 participants.
Rooms will be assigned on a first-come, first-served basis.
The room rates are fixed in Korean currency (KRW).
Reservations should be made online.
Room rates are inclusive of tax & service charge.
Extra person's charges or extra bed charges are subject to each hotel's policy
Please click the hotel website below for more detailed information.
If you have any special requests(e.g. breakfast, extra beds, etc.), please indicate them in the 'Special Request' box at the online registration form.

**To reserve your room at InterContinental Seoul COEX or Grand InterContinental Seoul Parnas, please complete and return the reservation form directly by fax or email to

ic-convention@parnas.co.kr

.

Room rate and type

Class
No.
Hotel
Room Type
Rate (KRW)
Breakfast (KRW)
Distance to Venue
Reservation

(Venue Hotel)

1

InterContinental Seoul COEX
Superior Room
229,900
36,300
0km (Located in COEX)
[Reservation Form Download]
Elite Room
266,200
Club Superior Room
326,700

2

Grand InterContinental Seoul Parnas
Deluxe Room
278,300
36,300
0.7km
[Reservation Form Download]
Junior Suite Room
326,700
Club Deluxe Room
375,100

3

Imperial Palace Seoul
Superior Room
146,000
29,040
2.5km
[Click]

4

Hotel Peyto Samseong
Deluxe
135,000
16,500
0.7km
[Click]

5

GLAD Gangnam COEX Center
Standard
124,000
19,800
1.0km
[Click]

6

Hotel URI&
Standard
135,000
15,400
0.7km
[Click]

7

Ibis Styles Ambassador Seoul Gangnam
Standard
113,000
11,000
1.3km
[Click]
Superior
124,000

8

Hotel The Designers (Samseong)
Standard
124,000
Included
1.0km
[Click]
Serviced Residence

9

Gangnam Family Hotel
Standard
113,000
16,000
2.6km
[Click]
(The price quoted above include VAT and SVC.)
Tour Program
Tours can be changed or cancelled if the number of people booked on our tour program does not reach the set minimum.
Tour Programs are only available to ICHEP2018 Participants.
For any questions related to our tour programs, please contact the following:
Hanjin Travel / Gwi Nam Cho (Mr.)
Reservation Dept. Tel: +82-2-726-5541, Fax: +82-2-778-2514, E-mail: gncho@kaltour.com
Tour program Overview
*For more information about each tour program, please click the course name.
**Minimum 10 people are necessary for all tour to take place
Half Day Tour
Full Day Tour
Date/Duration
Everyday / 09:00-17:00
Price per Person
KRW 150,000
Price included
English-speaking guide, Private Transfer, Admission fee, Lunch (local)
Itinerary
Meet at COEX – MBC World – Lunch – Hongdae Area – Seoul Sky Observatory – Back to COEX
MBC World is Korea's first hallyu theme park opened by Korea's major broadcasting company MBC. The park offers hologram K-pop concerts, virtual reality drama sets and more. The theme park's main attractions include experience zones where visitors can experience being on stage with K-pop stars in a holographic form, learn dance moves from the stars or become the main character of a favorite K-drama.
Hongdae Area is a neighborhood known for its youthful and romantic ambience, underground culture, and freedom of self-expression. Unique cafes, cozy galleries, accessory stores, fashion shops, live cafés and clubs, art markets, and gourmet eateries make this a popular hang-out for local youth and a fascinating place to walk around.
Seoul Sky is located on floors 117-123 of Lotte World Tower, the nation's tallest and the world's fifth tallest building. The observatory offers a panoramic view of the entire capital city, beautiful both day and night. In addition to the outstanding view, visitors can enjoy a small snack or coffee from the dessert cafe while sitting in the lounge or on the sky terrace. The observation deck has two story-high glass windows for an uninterrupted view. The Sky Deck, located at 478m, hold the Guinness World Record as the highest glass-floored observatory in the world. On days when visibility is limited, visitors can still enjoy a clear sky through the Sky Theater. The 120th floor holds the Sky Terrace, open to the elements.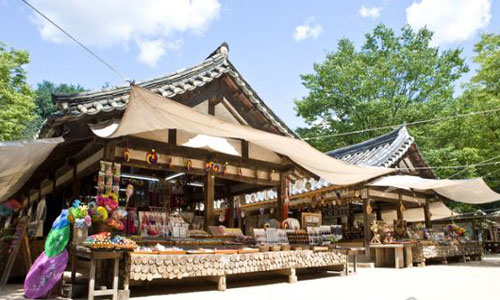 Date/Duration
Everyday / 09:00-17:00
Price per Person
KRW 120,000
Price included
English-speaking guide, Private Transfer, Admission fee, Lunch (local)
Itinerary
Meet at COEX – Suwon Hawseong Fortress – Lunch – Korean Folk Village – Back to COEX
Suwon Hwaseong Fortress is an impressive structure from the latter part of the Joseon Dynasty (1392-1910) and the official fortress of Suwon-si, Gyeonggi-do. The fortress (constructed from 1794 to 1796) was built as a show of the King's filial piety towards his father Jangheonseja and to build a new pioneer city with its own economic power. The fortress was designated as Historical Monument No. 3 in January 1963, and in December 1997, it was designated a UNESCO World Cultural Heritage Site.
Korean Folk Village: Set in a natural environment occupying approximately 243 acres, visitors can experience the natural atmosphere with over 260 traditional houses reminiscent of the late Joseon Dynasty, including various household goods from different regions. All these features have been relocated and restored to provide visitors with a broad understanding of Korean food, clothing, and housing style of the past.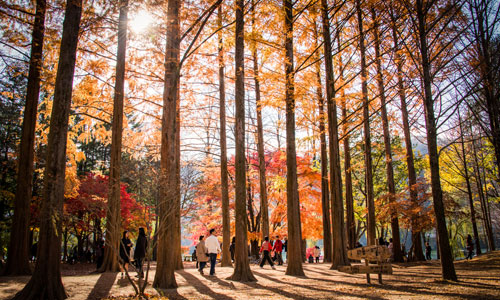 Date/Duration
Everyday / 09:00-17:00
Price per Person
KRW 130,000
Price included
English-speaking guide, Private Transfer, Admission fee, Lunch (local)
Itinerary
Meet at COEX – Nami Island – Lunch – Petite France – Back to COEX
Nami Island is 63 km away from Seoul in the direction of Chuncheon, and is famous for its beautiful tree lined roads.  The island is 30 minutes away from Chuncheon and an hour away from suburbs of Seoul. Since it is not far from Seoul, many couples and families come to visit.  A special feature of Namiseom Island is that there are no telephone poles. This is because all electric wires were built underground to keep the natural feeling of the landscape. The complex is 553,560 square yards with chestnut trees and poplar trees around the isle.
Petite France a French cultural village set in the Korean countryside! Petite France serves as both a French cultural village and consists of 16 French-style buildings where visitors can lodge and experience French food, clothing, and household culture. The concept of Petite France encapsulates 'flowers, stars, and the Little Prince.' The village contains a memorial hall dedicated to Saint-Exupery, the author of the celebrated French novel, Le Petit Prince (1943) and as such it is called the Little Prince theme park.
Night Tour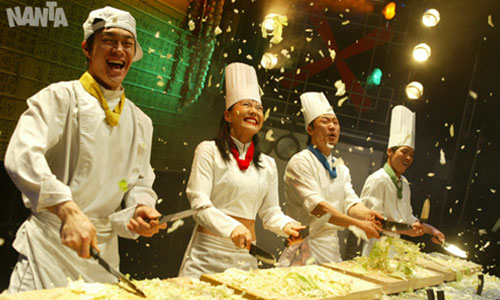 Date/Duration
Everyday / 18:00–22:00
Price per Person
KRW 130,000
Price included
English-speaking guide, Private Transfer, Admission fee
Itinerary
Meet at COEX – Myeongdong – NANTA performance – Back to COEX
NANTA has been running since October 1997 and is the most popular show ever in Korea. It also has achieved outstanding international success having performed on Broadway and toured widely around the US and the rest of the world. It receives rave reviews wherever it performs and quickly sells out. Without a dialogue, but through rhythmic banging of knives, pots and pans, NANTA (or Cookin' as it was known in the States) tells the story of four crazy chefs who have been set the impossible task of making a wedding banquet in just one hour. What follows is pure musical mayhem, and they even manage to fit in a love story! The show is based on Korea's traditional garak (rhythms) of Samulnori (traditional Korean percussion quartet), and can be enjoyed by all the family.
Myeongdong is one of the busiest places in Seoul and is among Korea's premier shopping destinations. Over 1 million shoppers pass through this area each and every day. Located in the heart of Seoul, Myeong-dong market has been a witness to Korea's tumultuous modern-day history as a center of city politics, economy, and culture. To international visitors, Myeong-dong is a stunning shopping district with countless shops and restaurants. Its wild popularity has led to similar shopping districts springing up all across the country.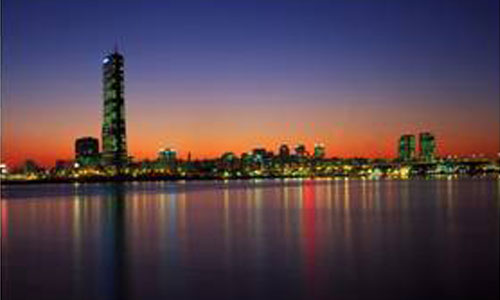 Date/Duration
Everyday / 18:00-22:30
Price per Person
KRW 110,000
Price included
English-speaking guide, Private Transfer, Admission fee
Itinerary
Meet at COEX – Han River Cruise – Gwangjang Market – Back to COEX
Han River Dinner Cruise is one of the best ways to enjoy the scenery around Hangang River that flows through Seoul. Cool wind from the river, the surrounding scenery, which get more beautiful in the evenings, are the rewards the ferry cruise can offer you.
Gwangjang Market is the nation's first market and continues to thrive as a popular tourist destination today. The second floor of the market provides all of your silk, satin, and linen bed-sheet stores, which are the largest and most famous in Seoul. Many of the stores in the area even have their own factories supplying fabrics to the Namdaemun Market, Pyoung Hwa Market, and even to some department stores. Even though the goods are not brand-name products, the wide selection of high quality goods at inexpensive prices makes it an enjoyable shopping experience.
Post-Congress Tour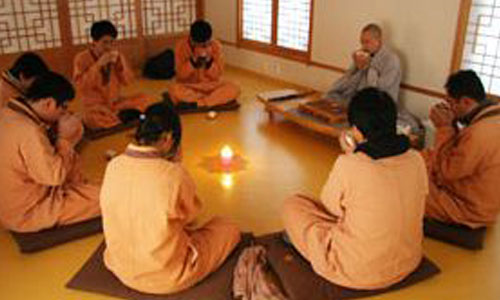 Date/Duration
Jul 12-14, 2018
Price per Person
KRW 130,000
Price included
KRW 650,000 (2persons sharing a room)
KRW 770,000 (Single occupancy except for the temple)
Itinerary
Temple-stay (1N), Private hotel (1N), Meal, Private bus, English-speaking guide, admissions as per itinerary
Jul 12) SEOUL / PYEONGCHANG (L/D)
Meet at COEX (0900)- Jeonggangwon (Traditional Korean Food Culture Experience Center)_Experience making 'Rice Cake'- Lunch – Arrive at Woljeongsa Temple – Temple-stay (Zen meditation, tea ceremony with monk)
Jul 13) PYEONGCHANG / GANGNEUNG (B/L)
After the Temple-stay – Alpensia (2018 Pyeongchang Winter Olympic Games Venue)- Terarosa Coffee Factory – Move to Gangneung – Hotel C/In & Free time
Jul 14) GANGNEUNG / Mt. SEORAK / SEOUL (B/L)
Hotel C/Out – Move to Mt. Seorak – Mr. Seorak National Park (go up the mountain by cable car) – Back to Seoul around 1430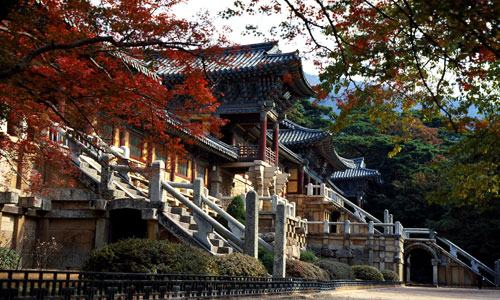 Date/Duration
Jul 12-14, 2018
Price per Person
KRW 780,000 (2persons sharing a room)
KRW 990,000 (Single occupancy)
Price included
Private hotel (2N), Meal, Private bus, Bullet train 'KTX', English-speaking guide, admissions as per itinerary
Jul 12) SEOUL / GYEONGJU (L)
Meet at COEX (0900)- Seoul Station – Leave for Gyeongju by bullet train 'KTX' – Yangdong Folk Village [UNESCO World Heritage] – Gyeongju National Museum – Daereungwon Tomb Complex (Cheonmachong Tomb) – Gyeongju Donggung Palace and Wolji Pond – Move to hotel & C/In
Jul 13) GYEONGJU / BUSAN (B/L)
Bulguksa Temple – Move to Busan – Jagalchi Seafood Market – Nampodong – Busan Tower – Haeundae Beach – Hotel C/In
Jul 14) BUSAN / SEOUL (B)
Hotel C/Out – Haeundae Sightseeing Cruise – Busan Station – Leave for Seoul by bullet train 'KTX' – Arrive at Seoul around 1450
Special offer for Participants
1. Discount on Discover Seoul Pass (DSP)
The Seoul Metropolitan Government and Seoul Tourism Organization are providing a 10,000 KRW discount on the Discover Seoul Pass, which provides free admission and discounts at the city's most popular historical sites, cultural attractions, and experiences.

Pass Lasts for a Fixed Time after First Use
*For a complete list of free and discounted attractions with the Discover Seoul Pass, visit: https://www.discoverseoulpass.com/attraction/list
Other Pass Functions without Time Restrictions
Free one-way boarding pass for the airport express train AREX (single ride at any time)
Free one-day pass for Seoul's public bike system, Ttareungyi (can be used once at any time but will expire midnight of the same day of bike rental)
T-Money transit card function: after recharging your Discover Seoul Pass, you can use it as a public transportation (i.e., bus, subway) card
Secret Code for Discount:
2018ICHEPSEOUL
2. Discount on COEX Aquarium admission ticket
COEX Aquarium presents 10% off on the admission ticket if present
ICHEP2018 Nametag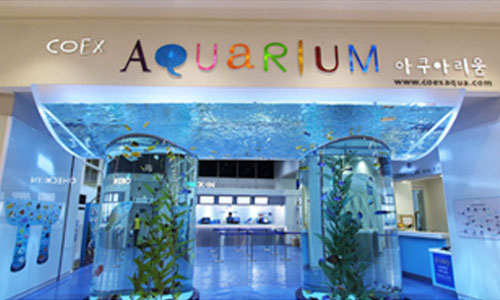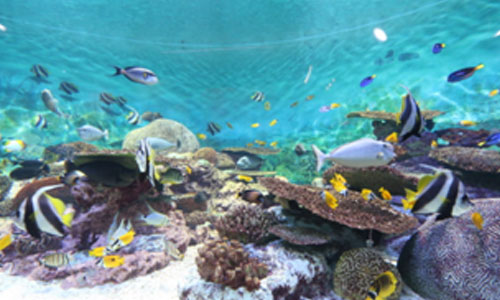 The COEX Aquarium is comprised of 183 display tanks and 90 breeding tanks with 3,500 tons of water volume, making it a large-scaled aquarium. It houses 40,000 sea creatures, which come from 650 different species divided into 16 themed zones. In particular, the highest number of sharks and the largest variety of species in Korea are living in the aquarium. An open-top water tank releasing anions in addition to 20 rest areas make this tourist site in the heart of Gangnam, Seoul a perfect healing place for local and international visitors.
Visit website for more information:
coexaqua.co.kr
Tour information and Traditional Culture Experience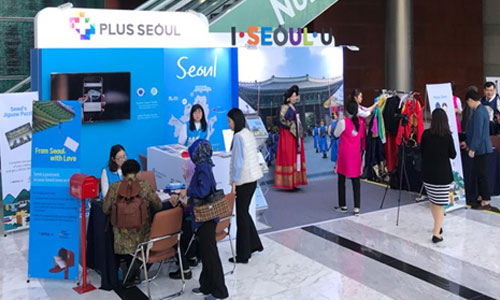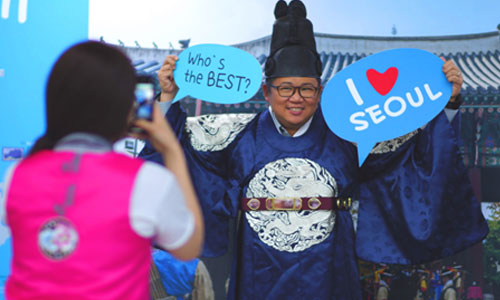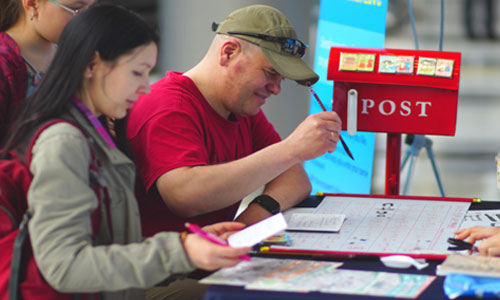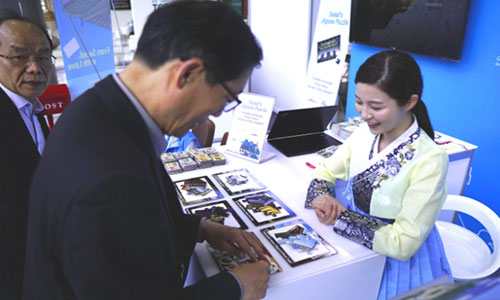 Seoul Promotional Booth, COEX Auditorium lobby, 3F
Opening Dates & Hours: July 9~ 11 /9:00 AM - 12:00 PM, 1:00 PM - 6:00 PM
Take a photo dressed as a traditional Korean king or queen!
Learn Hangeul (the Korean alphabet) and send a postcard in Korean to your loved ones at home.
Complete Seoul's Jigsaw puzzle in 10 seconds and get a SEOUL MAGNET!
*Provided by Seoul Metropolitan Government